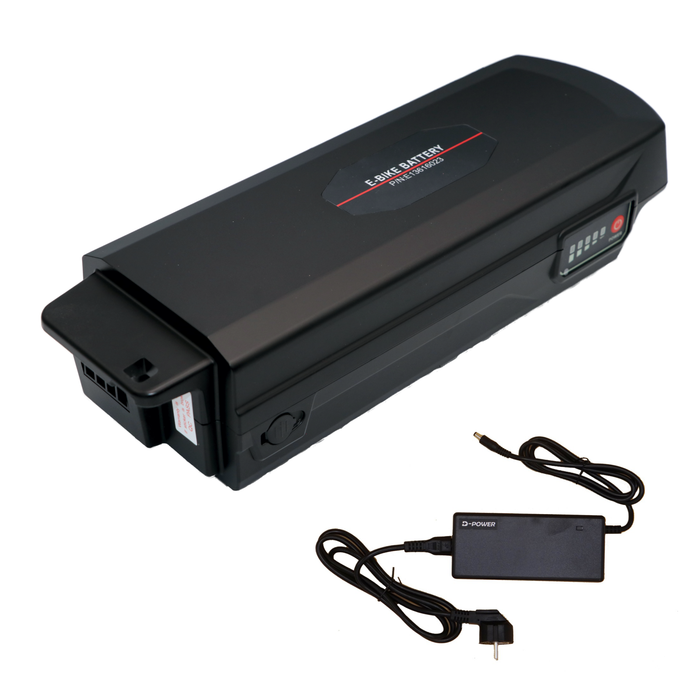 Giant Electric Bicycle Battery 36 Volt 15.6 AH , Samsung cells, with charger
36 Volt

15.6 AH 
Replaces Giant rear rack batteries
Includes a new battery charger 

This battery replaces your Giant rear rack battery and uses high quality Samsung 18650 cells. Assembled with all new components and guaranteed for two years for private use. Your battery also comes complete with a new battery charger
With 562Wh of power and powered by the high-quality Samsung 18650 cells, your battery is backed by our two-year private use warranty.

Note; This battery has been tested and passed EN 62133-2-2017, UN38.3, CE-EMC, IP54 and four tests under EN 50604. These tests ensure you safety and quality
Voltage                              36 Volts
Capacity                              15.6 AH
Power                                  562 Wh
Weight                                3.46 kg
Length                                 350 mm
Width                                   120 mm
Height                                  90 mm
Color                                  Black
Battery location                Seat Luggage Rack
Battery Type                     Lithium-ion
Charger                             A new battery charger is included.
Guarantee                         2 years
Brand cells                         Samsung
Suitable for Giant electric bicycles, including
Giant
Aspiro +0 (2015)
Aspiro +1 (2014-2016)
Aspiro +2 (2014)
Ease +1 (2016)
Ease +2 (2015-2017)
Ease +3 (2015-2016)
Elegance E+0 (2016)
Elegance E+1 (2017)
Elegance E+2 (2016-2017)
Prime E+0 (2014-2016)
Prime E+1 (2014-2016)
Prime E+1 Power (2014-2016)
Prime E+2 (2014-2015)
Prime E+2 DISC (2015-2016)
Prime E+2 Trendy (2014-2016)
Prime E+3 (2014-2016)
Prime E+3 Trendy (2014-2016)
Triple X E+1 (2017)
To ensure your safety and quality of our products, this battery is compatible and tested according to European standards UN38.3, EN15194, EN62133-2-2017, CE-EMC, and four tests under EN50604